Our story
Using precious, soft and lustrous materials, MASKA is dedicated to creating timeless clothing where yarn and design come together in perfect harmony. Each MASKA garment is crafted wholly from natural fibres carefully selected for their lasting beauty.
Passionate about yarn and artisanal knitting techniques, Maria Svensson and Lisa Leierth launched MASKA ("knitted stitch" in Swedish) in 2009 with a clear mission: to produce exceptional quality knitwear that transcends the seasons – the knitwear they had always dreamed of wearing.
At MASKA we want everyone to discover the beauty of exquisite yarns, knitted structures and refined detailing that we love so much ourselves.
The first MASKA jersey range will be launched in February 2014 as part of the S/S14 Japanese-inspired Shibui Collection. Looking to explore a new world of knitted fabrics, the MASKA team has been working with the finest organic cotton and Tencel to create simple yet luxurious jersey garments for every occasion.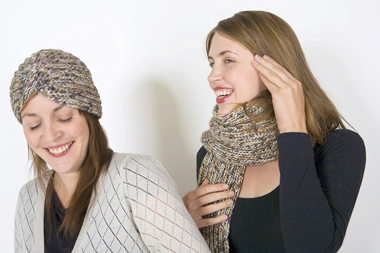 Materials
Creating the perfect knitwear is about having a deep knowledge of the materials and selecting the right yarn for every design. Just like fine wine or chocolate, each yarn has its own unique quality such as shine, drape and softness.
Each MASKA garment is crafted from carefully selected natural fibres including extra fine Merino wool, Peruvian Pima cotton, kid mohair, Mongolian cashmere, silk, linen, organic cotton and Tencel. All yarn apart from the cashmere and silk blend is spun in Italy.
Production
At MASKA we always take ethical and environmental concerns into consideration when producing our garments. All A/W13 and S/S14 knitwear is produced in the EU apart from silk and cashmere blend garments which are produced in Nepal at a Swedish-owned factory. Though outside the EU, this supports the growth of local industry. This factory is currently working towards fair labour verification by the international non-profit organisation
Fair Wear Foundation
.
History
Sharing a passion for wool, natural materials and artisanal knitting techniques, Maria and Lisa started the label in 2009 with the desire to create high quality yet well-priced knitwear – the knitwear they both missed.
In 2011 MASKA was nominated "Rookie of the Year" by the Swedish Fashion Council.
MASKA designs are currently available at 35 stockists in eight countries – Austria, Canada, Finland, Germany, Japan, Sweden, Switzerland and the United Kingdom – and appreciated by web customers all over the world.
Visit our studio
You are welcome to visit us at our studio in Gothenburg to try on garments for size, or simply to experience our amazing yarns. Contact us at
info@maskaknits.com
or call +46 (0)31 313 32 39.
Press enquiries